Each year, the interior design community eagerly awaits the announcement of Pantone's Color of the Year. This year, the announcement came with an unexpected and delightful twist; for the first time in its 21-year tradition, Pantone highlighted a color pairing – Ultimate Gray and Illuminating - as its 2021 Color of the Year.
The reveal got us thinking about color trends: the dynamism of two-toned design, the color combos we love, and the styling possibilities for the year ahead.
Stone and Sunshine
First, let's talk about Pantone's 2021 Color of the Year! We're loving this combination of golden yellow and grey; the neutral hue grounds the space while yellow brightens it, creating an atmosphere of sunny optimism.
While Pantone intended the colors to be used in tandem, the balance is up to you. Assign a dominant color and highlight or have each evenly weighted throughout your space – the choice is yours! However you harmonize the colors, incorporating pattern and texture will add complexity and depth to your interiors.
This mudroom makeover by designer Wendy Mauro is a great example of merging color and pattern. The entire space is wrapped in our Bennett Grey Dotted Scallop wallpaper, the delicate grey and gold arches bringing gentle detail to the space. Sturdy grey cabinets provide ample storage and much-needed functionality, while golden fixtures echo the wallpaper's yellow accents. Overall, is a perfect welcome to a busy home filled with life and love.
This color combination also has gorgeous seasonality, as Cait Pappas of @nest.out.west can prove! She created a gorgeous and moody music room using our Gallerie Taupe Geometric Wood wallpaper, which brings fabulous texture and understated dimension to the space. Come fall, the tree outside her window turns golden yellow, further highlighting the rich mustard and earth-tone accents that round out the space.
Other Leading Color Trends: Pink and Green
Out of all the recent color trends, this is a personal favorite of ours! Combined, pink and green create a grounded space with dreamy, feminine allure. The combo also offers lots of flexibility with mood-setting based on how you balance the colors and what shades you use.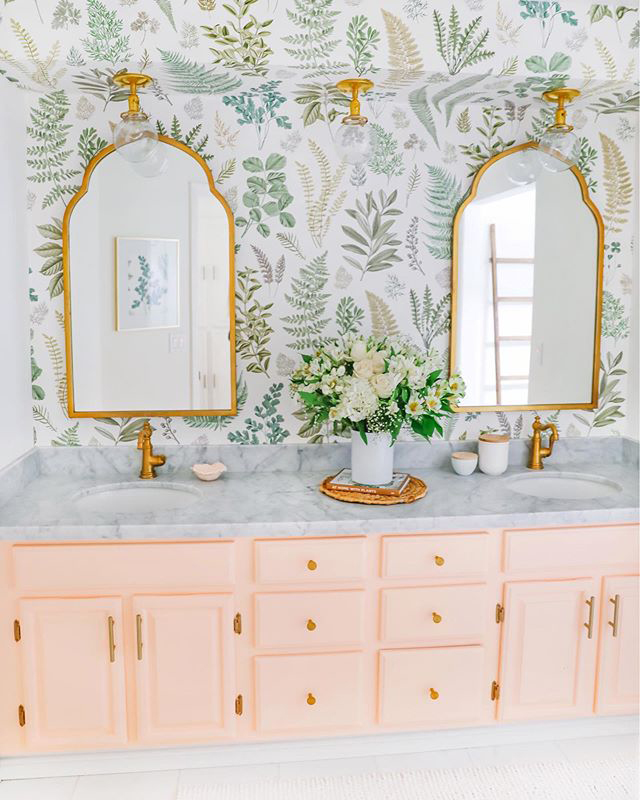 Design & Photo Credit: Veronica Levy
We absolutely adore the bright, tropical pink cabinets Veronica Levy used with our Britta Green Herbs wall mural in her girls' bathroom! Paired together, the pink and greens seem more vibrant and the entire space shines with playful sophistication. We imagine her young daughters will love this timeless design as they continue to mature!
Design & Photo Credit: Ashley Riela
Ashley Riela's open-concept living room and eating nook offers another kind of timeless with her contemporary take on mid-century modern interior design. The entire back wall is wrapped in our Gwyneth Dark Green Floral wallpaper, a playful print with eclectic charm. Its palette of rich greens and both pastel and ruby pinks enhance the retro vibes Ashley has lovingly curated. The piece de resistance – the plush pink couch – perfectly complements the wallpaper, the entire room brightened by a blend of brass fixtures and rattan accents.
Lastly, we have this sleek and modern bedroom by @zaz.studio. This is a great example for individuals who like having the freedom to change their color scheme. The rich blue-green grasscloth feature wall grounds the space with its textured depth and rich jewel tones. Blush linens, and the delicate splashes of pink in the wall art, soften the space to create a tranquil and inviting vibe. Rich wood tones, brass accents, and streamlined curves bring modern touches that complete the space.
Red and Blue: Powerful Primary Pairings
Primary colors leave a powerful impression and are perfect for statement-making interiors – especially when you pair them together. While we tend to think of red and blue mainly in a patriotic context, the color combo is striking for modern interiors.
Design & Photo Credit: Laura Gushue
Our favorite red-blue combos features rust reds and soft indigo, like in our Anemone Multicolor Floral wallpaper.  And Laura Gushue's sitting room is one of our favorite spaces that uses this stunning design! It's almost as if the large-scale flowers were made specifically to draw out the rich color of the room's wooden features. Simple white furnishings and neutral accents perfectly balance the color and visual interest present throughout the room.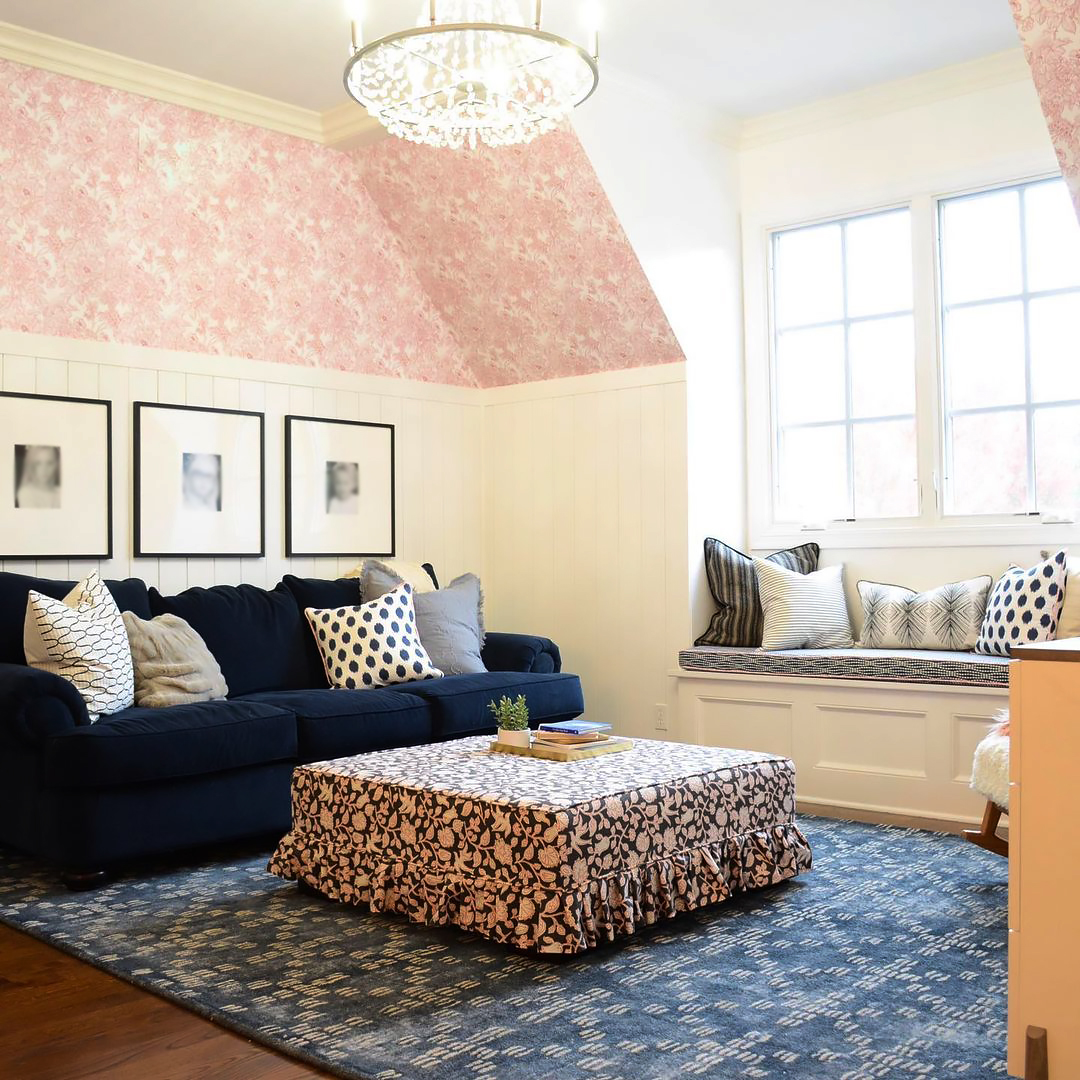 Design & Photo Credit: Erica Krzykowski
This elegant loft space features more traditional shades of red and blue, but the effect somehow manages to stay soft. The intricate, illustrative details of the Birds of Paradise Breeze Red Floral wallpaper half-wall brings delicate depth to the space. The simplicity of the shiplap and plush blue furnishings balances the detail of the wallpaper, giving the entire space an air of rustic elegance and comfort.
Out of these dual color trends, are there any you're looking to bring into your home? If not, is there another pairing you think will pop in 2021? Share your thoughts in the comments below!