Despite our best hopes for the year, 2021 was another one largely spent at home. While frustrating, it's also been a blessing in disguise. New standards for our work and social lives have drastically changed what we want and need from our homes, and this past year enabled us to refine exactly what home should be from this point on.
2022 is the year we bring our homes to personal perfection, where we bring polish and permanence to new ways of living in and styling our spaces. Here's what we predict will be the biggest 2022 design trends and priorities for home moving forward:

Celebrating Color and Pattern
Throughout 2021, we saw a steady embrace of color and pattern which will only strengthen throughout 2022. In fact, the ready celebration of punchy colors and patterns is THE most influential 2022 design trend, as it's an overarching theme for practically all the year's leading looks:

Color Trends for 2022
The word nearly across the board from the color authorities is that green is the way to go. After the turbulence of the past two years, the simultaneously soothing and uplifting effects of green hues are in high demand. Green is also a natural fit with the gradual expansion of neutral hues experienced in the past year, which now includes not only certain shades of green, but also warmer tones that green naturally complements.
Sherwin-Williams 2022 Color of the Year, Evergreen Fog, certainly falls into the neutral green category which the company describes as 'green-meets-gray'. While Benjamin Moore's October Mist offers a warmer silver-sage, it too could easily be used either as a neutral or a soft injection of color.
| | |
| --- | --- |
| | |
| October Mist; Photo Courtesy of Benjamin Moore | Evergreen Fog; Photo Courtesy of Sherwin-Williams |
The Pantone Color Institute, however, has a different color vision for the year: PANTONE 17-3938 Very Peri. The vibrant periwinkle hue, according to Executive Director Leatrice Eiseman, captures the best of beloved blues while also expressing a joyous and creative energy with its violet-red undertones.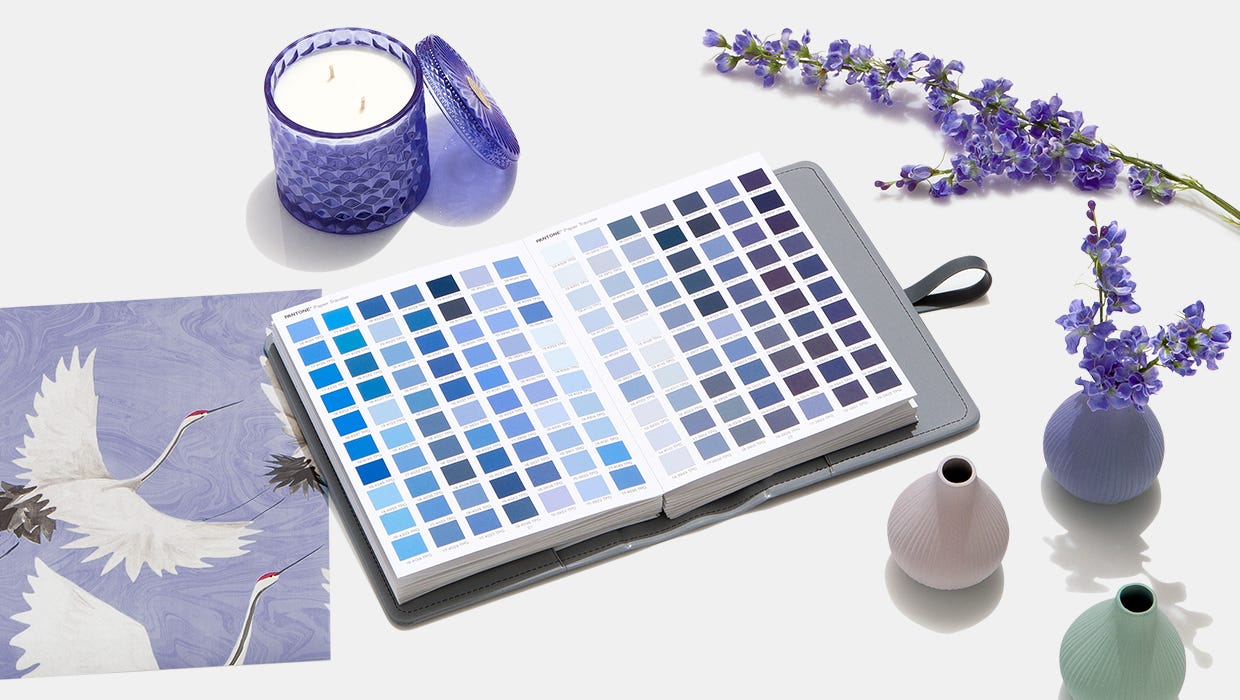 Photo Courtesy of Pantone Color Institute
Very Peri is a new color specifically created to be Pantone's Color of the Year – a first in the event's 23-year history. But in a time of massive global change, where people are re-evaluating the very foundations of their daily life, an entirely new color serves as a symbol for these transformative times.
This shifting status-quo also encompasses the increasing overlap between our physical and online lives, which PANTONE 17-3938 Very Peri seeks to reflect as well. The color was created to seamlessly transition between digital spaces and the physical world, thus expanding the creative possibilities in both realms.

Colorful Kitchens
One of the few holdovers from the past year's explosion of colorful maximalist design, kitchens are now getting the attention they deserve. This doesn't mean, however, that white kitchens are off the table; if you love your crisp white kitchen, then nothing needs to change! But if you've shied away from bringing color to the table before, now's the time to re-evaluate.
Design experts predict that statement stone – either for countertops or backsplash, or both! – will be a big 2022 design trend. Also look to add some spice to your space with colored cabinets, wallpaper accents, or richly pigmented paints and tile!
Fantastical Flair
As more and more people delve into pattern, interior experts predict that 2022 designs will be bolder and more fantastical. We've already seen this shift begin with the resurgence of chinoiserie prints; while a more traditional style, chinoiserie nonetheless often features motifs both strange and wondrous like dragons, exotic animals, and imaginative landscapes. Design experts believe that these patterns will become even more surreal in 2022, especially with the growing popularity of digital printing.
However, if the strange and unusual is not to your taste, never fear! 2022 design will also see continued development of cottagecore comforts, with its perchance for Laura Ashley-reminiscent florals and a celebration of all things earthy and charming. If that's not your vibe, experiment with bringing something more intricate and ornamental to your home, like William Morris' Arts & Crafts-inspired designs for a more sophisticated and timeless look.

Minimized Maximalism for Multipurpose Living
If being at home all the time has proven anything, it's that single-purpose spaces are a thing of the past. Maintaining rooms that are only utilized two or three times a year just isn't feasible now that we're spending more time at home. Multi-functional living is the way of the future.
To create spaces that can serve drastically different purposes – think kitchen island that doubles as a desk – it's important to be mindful of the furniture and fixtures you choose. Selecting options that enable versatility is key to keeping your home feeling both organized and uncluttered, and is something buyers will be more conscientious of throughout 2022.
The practical flexibility of these types of investments often come with a larger price tag, which means longevity, sustainability and timeless style will be major priorities in 2022 design. Expect to see lots of natural materials that stand the test of time and look beautiful for years to come. Vintage goods rose in popularity throughout 2021, from equal parts frustration with supply chain issues as well as from prioritizing unique and sustainable style, and it is here to stay and shaping up to be a major contributor to 2022 interior design.

Home Office Permanence
One space that may see some added permanence in 2022: the home office. While people scrambled to create functional work from home spaces this past year, 2022 will be all about leveling up these spaces with more refinement and comfort.
Creating the perfect home office is all about balancing functionality and beauty. Your workstation should provide ample organization and, ideally, offer the flexibility for seated and standing work. Beyond these practicalities, your home office should be an inviting and cozy space, since WFH homes days can be just as long – if not longer! – than days in the office.
Take the time to really decorate your home office; choose colors that both soothe and energize you. Bring in special touches – soft fabrics, special artwork, items of personal significance – to make this space both a haven and a headquarters. And if you haven't invested thought or time into your Zoom backdrop, it's well past time!

Indoor-Outdoor Fusion
Expect to see more spaces that merge indoors and outdoors with 2022 design. A combination of being cooped up for far too long and having nowhere to go BUT outside has sparked a deeper appreciation for nature and its soothing effect on our psyche.
We first experienced this trend with the houseplant boom during lockdown, and live plants will certainly still be a hot commodity in 2022! But to create a more immersive connection with nature, we anticipate seeing an increase in scenic botanical wallpapers and nature motif décor.
Designers also anticipate greater investment in outdoor spaces as homeowners treat them as extended indoor areas. Once-neglected patios and backyards will be transformed to have the permanence and creature comforts of our indoor spaces: plush furniture wrapped in performance indoor-outdoor fabrics and covered in pillows, dining tables and cutlery specifically designed for weather-resistance and durability, and kitchen-worthy equipment for easier and more stylish outdoor hosting.


2022 design is bursting with endless possibilities for making home more YOU: comment below to share what trends you're most excited about and be sure to tag @astreetprints on Instagram and Pinterest throughout the year to show off your wallpaper updates!