New year, new interior design possibilities! 2022 might be over, but our 2023 trends forecast is coming in hot!
Over the past few years, the interior design ethos has skewed bold – and 2023 is shaping up to be its pinnacle! From blushing neutrals and fiery statement hues to home decor with a flair for the dramatic, the year ahead promises to bring the heat!
2023 Color Trends
When it comes to color trends, 2023 is here to paint the town red… or pink! By and large, the color authorities have chosen an array of fiery hues that embody warmth and optimism.
The boldest option comes from the Pantone Color Institute, the world's leading color expert. Their pick for 2023? Viva Magenta 18-1750, a vibrant pink-red that practically vibrates with exuberance and vitality.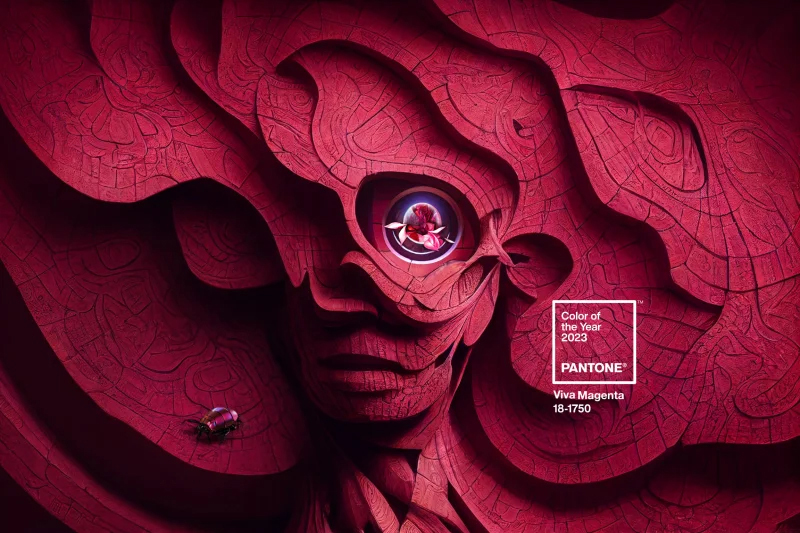 Photography courtesy of the Pantone Color Institute™
The crimson-adjacent hue is inspired by carmine pigment, a natural dye that produces Mother Nature's brightest and most enduring reds. Though with a careful balance of warm and cool tones, Viva Magenta is more nuanced than classic crimson and offers a bridge between tradition and modernity.
Viva Magenta 18-1750 promises to bring the drama to your interiors, whether used in moderation or abundance! For a pink-forward design with added depth, consider using Viva Magenta in partnership with other pink hues for a chic, monochrome look (more on this later)!
Photography courtesy of Benjamin Moore
For a pink that's all about warmth, consider Benjamin Moore's 2023 Color of the Year, Raspberry Blush! The vivacious red-orange hue is upbeat and inviting, the perfect statement color for a grown-up take on bright and bubbly.
However, if understated color is more your style, you'll love the subtle romance of Sherwin-Williams' Redend Point. The paint powerhouse's 2023 Color of the Year is a warm and minimal take on pink that's perfectly at home as a neutral or a soft accent color. Regardless of how you use this versatile hue, it's guaranteed to add comfort and calm to your home.
Photography courtesy of Sherwin-Williams
2023 Trends in Interior Design
To summarize 2023's biggest interior design trends in a word: expressive. This year is all about celebrating and centering what brings you joy in your home.
And while trends inherently prioritize 'fresh and new,' true self-expression holds onto what makes us happy regardless of novelty. Which is to say, don't be surprised to see themes from last year carry over into 2023!
For example, our love for nature will continue to influence our interior design choices, in 2023 and beyond! Biophilic design is here for the long-haul. Whether that means growing your collection of houseplants or incorporating more botanical accents into your decor is up to you.

Another carryover from the past few years? Pattern-play. Layering wallpaper, fabrics, and other home accents featuring complementary styles but differing scales has continued to grow in popularity. This trend will not only thrive in 2023 but will be pivotal to creating the energetic homes we're craving!
But with the tried-and-true 2023 trends out of the way, let's delve into emerging style influences:
New 2023 Trends for Home: Moody, Monotone Spaces
You may have seen this 2023 trend slowly rolling out in the latter half of 2022; if not, expect to see it everywhere in the new year! Moody, monotone spaces are bringing the character with their soothing, saturated opulence.

With seamless wall-to-wall (and sometimes ceiling!) color, monotone rooms wrap you in a luxurious hug. Taking the plunge – especially with darker hues – might be intimidating. However, the depth and richness of monotone design is unparalleled and can be balanced out with metallic or natural wood accents.
Worried an all-paint approach will be too saturated for your taste? Try styling your space with a combination of wallpaper, window treatments, and furniture in your chosen hue! Plus, check out these tips for creating a beautiful, colorful home.
New 2023 Trends for Home: Art Deco Decadence
The past several years have heralded a return to timeless styles, starting with the grandmillennial movement and continuing with style spin-offs like cottagecore and coastal grandmother. Our love of heritage design will only strengthen throughout 2023 and become more glamorous with a resurgence of Art Deco design!
Out of all the 2023 trends, this one feels especially perfect. Not only because this upcoming year celebrates bold expression, but also because it's a natural progression of our love for pattern-play. Art Deco features some of the most vivacious, glamorous, and classis designs you could hope for!
To add some Jazz Age pizazz to your home, look for a decadent wallpaper with flashy, metallic detailing or luxurious flock accents – or both!
Create a timeless, Art Deco inspired space with Voltaire! Featuring a large-scale geometric pattern formed from intricate beaded dots along a shining, pearlescent backdrop, it's chic and glamorous ✨

Interior design in 2023 has SO much to offer! What trend are you most looking forward to? Which are you planning to incorporate into your own home? Tell us in the comments below and be sure to share your 2023 trends transformations with us by tagging A-Street Prints on Instagram!