When it comes to style – both in fashion and interior design – what goes around, comes back around. What once was old becomes new again as we take inspiration from the past and fuse it with modern tastes to create something entirely unique.
Most recently, this style phenomenon has taken shape with the emergence of the grandmillennial: a maximalism lover with a particular fondness for traditional design.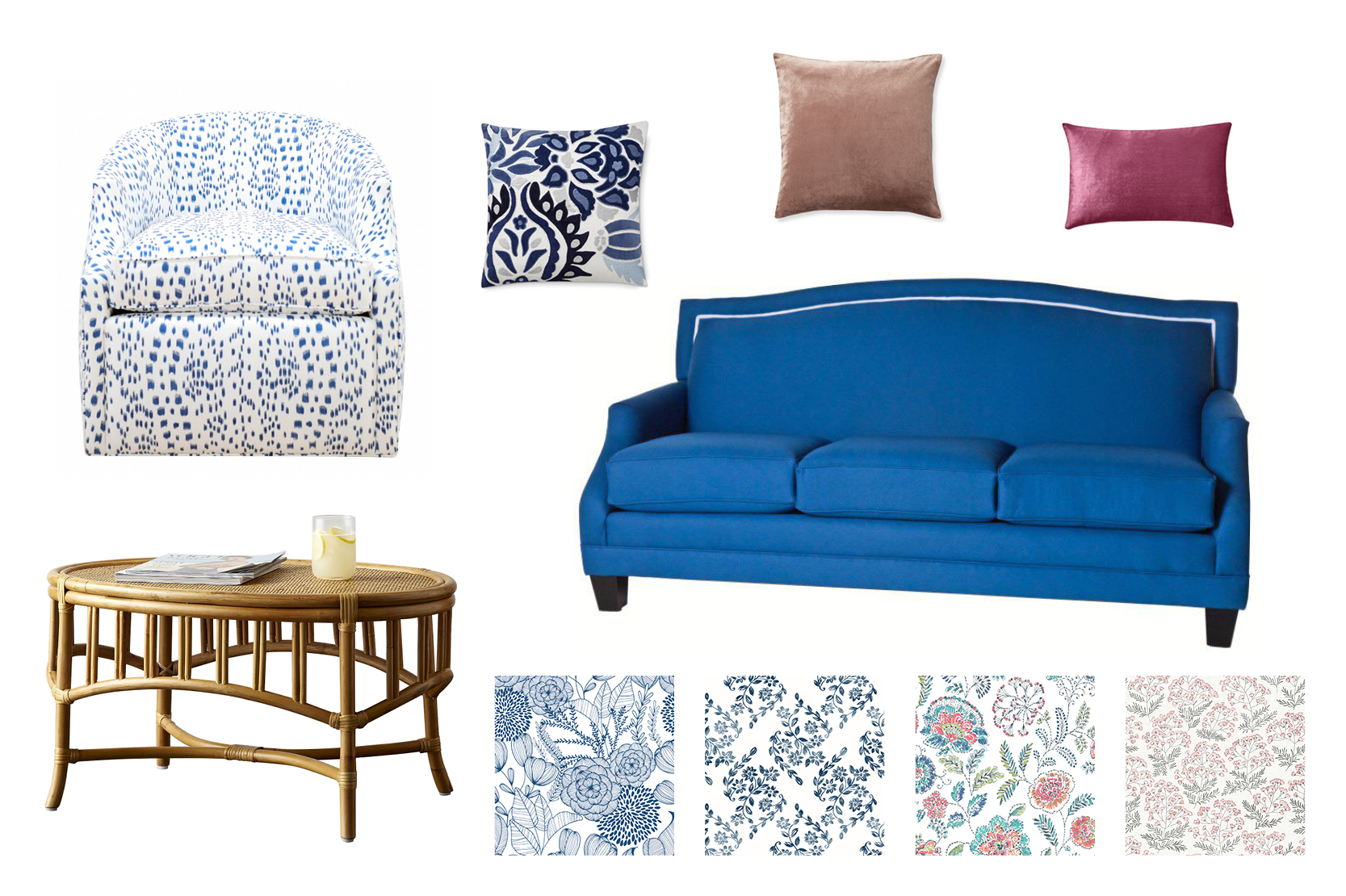 Featured: Society Social Marilyn Sofa & Stevie Swivel Chair; The Company Store Monterey Rattan Coffee Table; Williams Sonoma Home throw pillows; A-Street Prints Wallpaper in Alannah, Arabesque, Tropez & Floret
House Beautiful's Joanna Saltz coined the phrase 'grandmillennial' while Emma Bazilian first broke word of the trend. Brazilian defines a grandmillennial as a design enthusiast in their mid-20s to late-30s with an unabashed love for antiquated aesthetics. A grandmillennial's home is bursting with rich prints and florals galore, with a special affinity for embroidery, ruffles, and all things chintz. Grandmillennials embrace the maximalism mentality of 'more is more,' and their spaces are layered with vintage (inspired) décor and mementos that showcase their personality, passions, and travels.
The rise of the grandmillennial is largely a pushback against minimalism, which has sat at the forefront of home design since the early 1990s. For many, minimalist design has become repetitive and unremarkable; with little to no personal representation of the individuals who live there, each space blends in with the next.
In rejection of white-washed rooms and sleek but impersonal functionality, grandmillennials are creating spaces bursting with vibrancy and personality. For them, home is a place of refuge and comfort, where you're embraced by coziness and can leave your worries at the door.
However, curating a home that reflects both who you are and where you've been takes time. For those building up their personalized collection of curios, wallpaper is a great solution for setting the foundation of grandmillennial style. Whether you prefer twining florals, decadent damasks, or elegant toile designs, wallpaper quickly infuses your home with personality and richness.
A-Street Prints designs beautiful, timeless wallpaper for every style. For designs that speak to the grandmillennial's soul, be sure to explore the Bluebell, Solstice, Perennial and Equinox collections.
Looking for more grandmillennial maximalism? Explore the diversity of grandmillennial design curated on Pinterest.