We've all experienced the elevating impact of metallic accents. Whether you've swapped out a dated light fixture for a more polished option, or simply upgraded tired photo frames for ones with more luster – you know a little shimmer goes a long way in making your home feel bright and new.
However, decorating with metallic accents can be a double-edged sword; take it too far and your home could feel overdone and, frankly, a bit sterile.
So how DO you create that perfect balance? The one that says, 'warm and sophisticated' instead of 'chrome home of the future'? Re-think accessorizing with metallics and find a balance that complements your space with these tips!
Metallic Accents & Fixtures
Let's talk accent pieces! Swapping out old hardware or bringing in new décor is an easy way to add in metallic accents. Here are some strategies to keep in mind as you make your selections:
Don't Fear Mixed Metals
Over the past few years, style preferences have moved away from perfectly matching décor and towards curated yet eclectic mixes. Despite this shift, there's still a general hesitation around mixing metals. We're here to encourage you to take the leap!
Like playing with pattern and scale, incorporating multiple metallic finishes adds interest and dimension to your space. The key, like all design choices, is to be mindful when blending new and existing décor.
First, make sure your metallic accents are distinctly different from one another. Picking finishes that are TOO similar can make it seem like you were trying to match and missed the mark. Look for pieces with complementary brightness and undertones: warm hues with other warm hues, cool tones with cool tones, polished finishes versus matte.
When in doubt, black accents are a perfect neutral pairing with brighter finishes!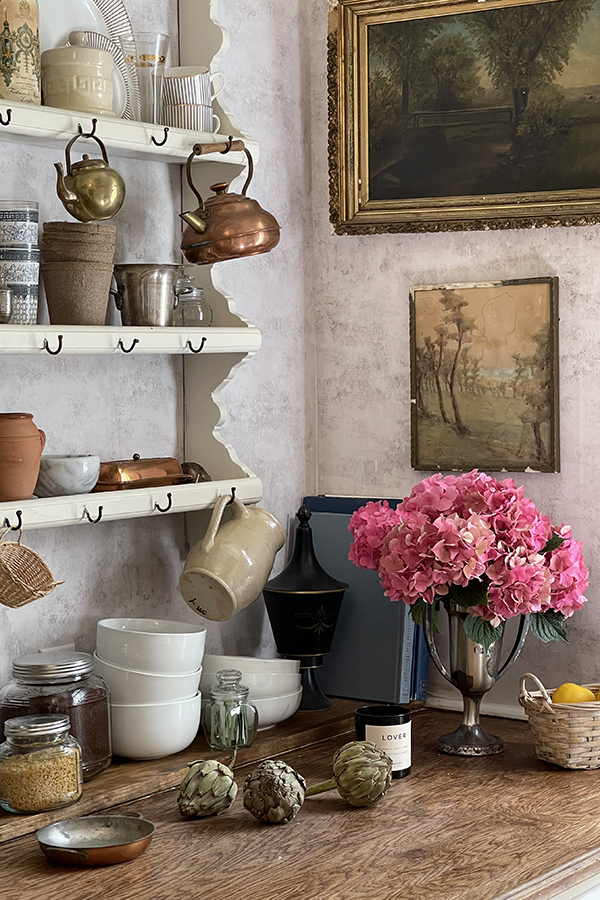 Paige Kontrafouris' butler's pantry enjoys both function and fashion with a blend of metallic accents! Both the decor and functional pieces feature an array of brass, copper, pewter, and glass that adds brightness and complexity to the storage space. Balanced with an array of other textures like wood, clay, and woven grasses, the small space is packed with both style and substance!
Mix Your Materials
Maximize the impact of your metallic accents by featuring a variety of textures and materials in your space! A blend of finishes – fabric, wallpaper, glass, wood, clay, etc. – creates depth through contrast.
However, to make the most out of this contrast, think in terms of accent groupings. Including at least three of an element – whether a color, material type, or metallic finish – adds intention and cohesion to your space. This makes the contrast between item groupings more intentional and impactful as well!
Pro-tip: Spread out the items in your accent groupings. This invites the eye to wander throughout the room and emphasizes the cohesion between different areas of your overall space.
Metallic Wallpaper: From Subtle to Statement Piece
Ready to take things up a notch? Then let's talk metallic wallpaper!
Modern wallpaper techniques have unlocked a wide array of dimensional effects, including metallic accents. Metallic wallpaper brings extra brightness and a sense of luxury to your home. With finishes ranging from a subtle shimmer to a highly polished sheen, there's an option for everyone.
This serene master retreat is a great example of subtle, metallic sophistication. From a distance, it's hard to tell the accent wall is anything other than timeless grasscloth. As you get closer, however, you see the fibers are woven along a shining silver backdrop. This not only emphasizes the wallpaper's gorgeous open basketweave construction, but also adds extra luminosity to the room.
Your ceiling is a great place to add a little extra pizazz! Not only is it an underutilized space, but it also gives you great bang for your buck! Transforming this one surface will elevate and uplift the entire room.
This home bar and lounge by Allison Harlow of Curio Design Studio is a great example of ceiling wallpaper at its finest. The geometric design features glittering, beaded dots along a pearlescent white background, which adds both subtle sparkle and a glossy, silken sheen. Opulence from above continues with the stunning bronze light fixture over the circular dining table. Rich blue walls and cabinetry simultaneously emphasize and ground the metallic accents along the ceiling; neutral hues in the chairs and area rug perfectly counterbalance the glamourous touches with their earthen warmth.
Embrace glamour to the fullest by incorporating metallic accents throughout your space – thoughtfully balanced with a mix of textures and finishes, of course! This guest bedroom is a great example of luxurious metallic design that remains perfectly cozy thanks to a blend of materials.
Decked out in inviting neutral hues, the bed gains some grandeur thanks to our Uma Platinum Star Medallion wallpaper. An upholstered headboard and silken sheets add to the bed's sense of lavish comforts, while identical mirrored nightstands provide structure and added brightness. The room is then capped by a small crystal chandelier, finishing the space with modern timelessness.
| | | |
| --- | --- | --- |
| | | |
| | | |
| Selwyn Metallic Copper Floral | Kupari Blue Trail | Artemis Bronze Floral Damask |
Inspired by our round-up of metallic accent excellence? Share your metallic-infused interiors with us on Instagram and follow A-Street Prints there and on Pinterest for more interior design insights!