No matter how much or little time you spend outside, the seasons have a visceral impact on us all. The shifts in temperature, weather, and even daylight can greatly influence our moods and our state of mind. These seasonal changes impact our homes as well – particularly what we want our spaces to look like and how we want to feel in them.
A change in seasons, however, doesn't have to mean redefining your home's style. The best seasonal decorating aims to embrace and build upon your design aesthetic, not alter it. After all, you've invested serious time and energy developing your current home style, and you may not be ready to abandon it as soon as the seasons shift.
Fortunately, there are ways to reflect the seasons in your home without entirely reworking your aesthetic. These simple suggestions will help you create seasonal style that complements, not compromises, your home design:
Take a Broad Approach to Seasonal Style
Seasonal style can seem like a tall order when you're anticipating redecorating every three or four months. Add holidays into the equation, and it's no wonder many people shy away from seasonal decorating.
Instead, think about the timeline in terms of warmer vs cooler seasons. This provides greater flexibility with your styling choices and easily allows for adding small holiday touches when timely.
Introduce New Color
Color is a powerful way to communicate mood and influence the tone of your space. When it comes to seasonal home transitions, think also in terms of warm and cool colors. During the colder months, create a cozy and welcoming retreat using rich warm colors and luxuriant, earthy hues. Amplify your sense of snugness by layering color with texture: think chunky knits, velveteen accents, and soft, fuzzy throws.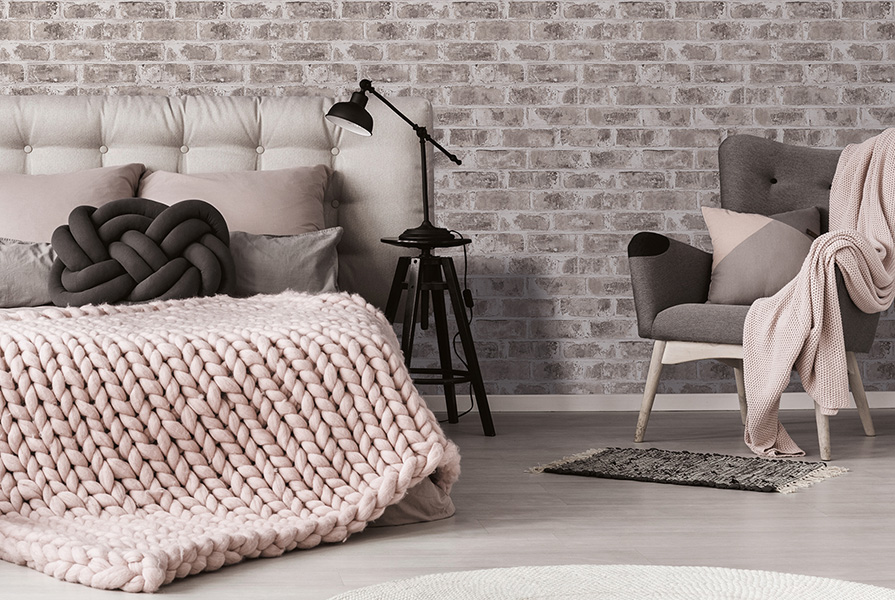 This bedroom makes for the perfect winter nest! Rich neutral hues and layers of texture, from the faux brick wallpaper to the various textiles and knits, invite you to bunker down and cuddle up!
When it's bright and balmy, temper that high energy in your home by using light, cool tones. Soft blues, greens and purples create a sense of calm and relaxation when the world is bustling outside. In addition to softening your color palette, consider lightening your textile choices as well by incorporating smooth silks and breathable linens. To bring some of the season's playful energy indoors, add pastel accents and décor that features more whimsical patterns.
| | |
| --- | --- |
| | These throw pillows are perfect spring and summer accents! The blend of cool tones and pastel hues brighten up the space, while the eclectic floral print brings some of playful, springtime energy indoors. The salvaged wood wallpaper adds to this airiness and will also make for an excellent backdrop when transitioning to richer, cool weather décor. |
Who says whimsical elements should be restricted to your accents? This 

Arboretum Aqua Fern wallpaper

, paired with beachy pillows and décor, makes for the perfect summertime hang-out! When the cool weather rolls around, its cheerful pattern will have you smiling as your bundled in blankets.

To make your seasonal color swaps truly impactful, repeat your chosen colors at least twice throughout your space. This creates a sense of purposefulness and cohesion to your interior design choices, which amplifies the color's effect.
Running out of places to splash color? Look to your artwork. Simply swapping your prints from their current frames could be that extra touch you needed.
Ground your Seasonal Touches
Changing out color (and texture!) in your home is a great way to transition your style throughout the year. Minimalist enthusiasts could stop here and have a perfectly balanced, showroom-ready seasonal home. However, those who love mementos and memorabilia may feel their home is incomplete without specific seasonal accents, like seashells or pinecones. And for those individuals, we have a streamlined solution.

Invest in a container – a glass vase, ceramic bowl, coffee table tray or other stylish vessel – to display your seasonal décor of choice. As the year progresses, quickly swap your décor to create an updated focal point for your room. Add dimension to this focal point by layering vessels together for a more powerful, seasonal punch.
This process doesn't have to take place in every room in your home, either. Focusing on a few key rooms is just as - if not more - impactful than a complete home transformation. Adding seasonal flair to the rooms you spend the most time in, like your living room, bedroom, and kitchen, can transform the feel of your entire house. For low-effort updates with big impact, look to smaller areas like your bathroom; a few simple swaps here can completely update the space.
See the Light
Everyone knows natural sunlight has a big impact on your mood, but it also plays a significant role in your seasonal styling. In the warmer months when the sunlight is plenty, let it pour in with light-filtering sheer curtains - or with no window treatments at all! In the colder months when sunlight is scarce, gloomy skies and dim light can be a downer. Block the view – and help keep your home's temperature regulated – by hanging thick drapes.
To compensate for a lack of sunlight during the fall and winter, consider adding some ambient lighting. The addition of soft light, like from string lights or salt lamps, can help compensate for those shorter days while adding another element of cozy to your winter nest.
Incorporate your other Scent-ses
It's incredible how quickly a certain scent can transport you to a different place in time. Ever walk into a room and been immediately transported back to your childhood by the smell of fresh-baked cookies? Utilizing fragrances can add depth to your seasonal home styling and further invoke the mood you're going for.
Candles and oil diffusers are classic, go-to options for adding aroma to your home. For an additional, more subtle touch, consider updating your hand soap for the seasons as well!
Tell us, how do you like to incorporate the seasons in your home? Share your tips, tricks, and experiences in the comments below!