'What's old is new again'. This sage adage rings true regarding the current revitalization of transitional design. What started in late 2019 with grandmillennial's explosion onto the design scene has evolved into a new era of modern traditional design.
While the demand for homes brimming with comfort and nostalgia has only grown, the style's ethos has begun to change. Now, home enthusiasts are seeking a more seamless fusion of modern sensibilities with timeless motifs – and the interior design world has taken note.
A New Age of Transitional Design
What we're beginning to see now is a pared-down take on traditional design motifs, reinvigorated by modern color palettes. House Beautiful has referred to this movement as Archival Revival and describes it as thus:
"It's 80s splendor without the ruffles, chintz that doesn't feel grandmotherly, Victorian-era patterns in defiantly modern colorways. You might see it described as "fresh" take, a "clean" version, or even a "modern" interpretation of classic maximalism."
- Hadley Keller, House Beautiful
If you follow interior design trends – or have been anywhere on the home interiors side of Instagram – you'll have a good idea of what this Archival Revival - or more generally, modern revitalization of transitional design - looks like.
A love of color, pattern, and maximalism sits at the heart of this modern traditional design movement. Popular patterns and motifs pull from decades, if not centuries, of design excellence. Just as cream floats to the top, timeless beauty resonates no matter the year.
However, color preferences and desired levels of embellishment - for both individual pieces and overall spaces - have changed over time. Which leads us to this moment of synthesis between old and new.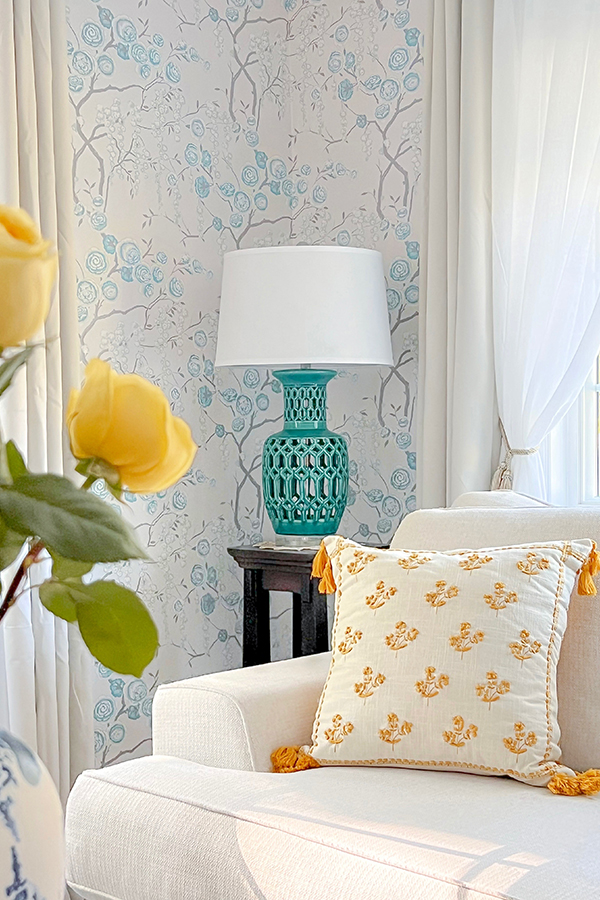 Justina Uram's gorgeous dining room - with lounge space for extra guests! - feels timeless. The stunning space is wrapped in a modernized chinoiserie wallpaper and furnished with a blend of antique and new pieces, giving the space lots of character while boasting contemporary form and function.
The New Transitional Design Blueprint
It should come as no surprise that our new era of modern traditional design celebrates not only ornate patterns, but layering. Whether it's the eclectic cohesion of pattern-play or the rich dimensionality of mixing textures, materials, and finishes, expect spaces that feel lush and bountiful.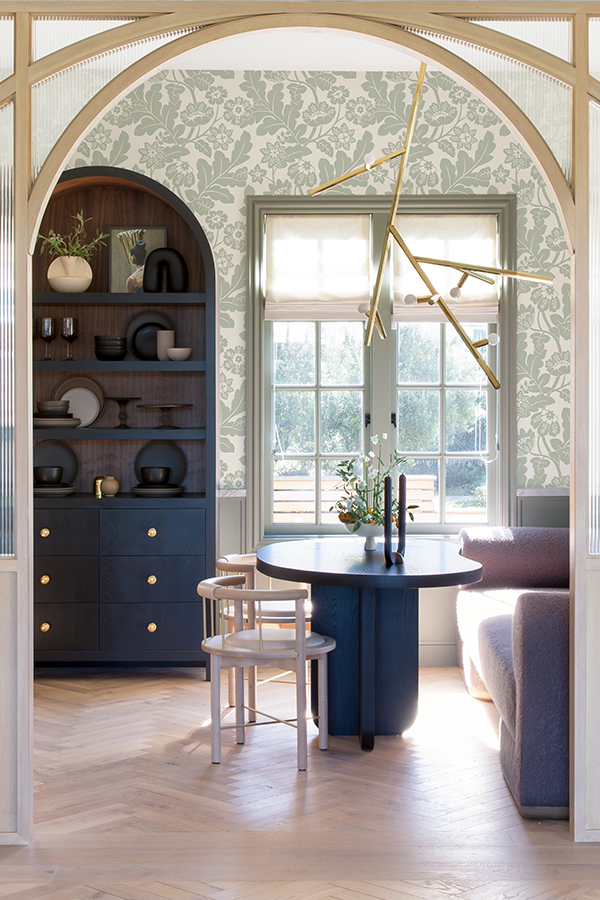 This contemporary sitting room is a dream come true! A perfect mix of traditional and contemporary features, not to mention a masterful blend of natural woods, metallic accents, color, and neutral hues. Bright and airy yet grounded and filled with color - you really can have the best of both worlds with great interior design!
Featuring Augusta Silver Flock Damask wallpaper
Despite its celebration of maximalist sensibilities, new transitional design is mindful of the importance of editing. A balance between detail and relief is the key to its modern feel. Ornate touches should be counterbalanced by simpler silhouettes, bold colors grounded by more muted hues.
Yet, paradoxically, neutral hues have received a glow-up of their own. Subtle mauve, pale apricot and terracotta, and delicate greens have all made their way into neutral palettes. So even more minimalist-leaning spaces will be imbued with greater richness and warmth.
Neutral palettes have expanded in recent years to include soft washes of color. Sage green-greys have been prominent in recent years, but expect a subtle warming with pale terracotta and apricot hues, as well as more complex cool tones like mauve and lavender.
Wallpaper Features: Zaria Apricot Topiary (left) and Helen Mauve Floral Trail (right)
All these influences culminate into spaces that are comfortably familiar, yet refreshingly reinvented. This movement is all about delighting in whatever delights you and bridging the gap between old and new.
Luckily, you'll have lots of inspiration to pull from as you interpret new transitional style for yourself, with more and more design houses embracing the moment. Start your own exploration with the perfect statement wallpaper from our Georgia collection, which offers our take on rejuvenated yet timeless sophistication.