Katie Hunt has transformed an unexpected love for wallpaper into a personal and professional passion. And now she is bringing her twelve-plus years of installation and styling experience to the world with REMIX Walls, her inaugural wall mural collection.
Katie's used A-Street Prints wallpapers throughout her career, and it is a distinct privilege for us to partner with her on this collection and learn about her journey in design:
When did you first fall in love with design? Did you plan on making a career out of your passion, or did you find yourself here over time?
Back in 2008, I visited the beautiful Wynn Las Vegas hotel, designed by the extraordinary Roger Thomas. When I returned home, I felt like something was missing. It was only when I went back to the Wynn a few months later that I realized it was the warmth and interest of the hotel's wallpaper I was looking for.
When I got home, I was immediately on the hunt for wallpaper. When I finished wallpapering all three floors of our home, I moved on to wallpapering other people's houses – and Katie's Wallpaper Installation was born.
Travel continues to fuel my love of wallpaper and design, as I love discovering new and exciting styles and patterns.
As a professional wallpaper installer with a prolific career that includes both magazines and television, you have a unique understanding of what people want from their wallcoverings! How has this shaped your collection?

I am so fortunate to work alongside so many talented interior designers and amazing clients every day. I see first-hand how wallpaper makes people feel, and how different wallpapers look in different spaces. This collection was created to give people the very best that wallpaper has to offer, from ease of installation to beautiful, camera-ready style.

We live in a highly visual world, one where people want to capture and share their experiences – and homes – with the people they love. I developed REMIX Walls to photograph gorgeously and to be incredibly simple for people to order and install, so that more people could enjoy and share a beautiful home with friends and family.


Photography Courtesy of Katie Hunt

Does your collection address any design pain-points you or your clients have experienced in the past?
Seams, seams, seams! Clients love looking for seams, and we have a few tricks to hide them! Non-woven wallpapers allow us to lay edges incredibly close, which is why the collection is made entirely of non-woven materials. Textured and dynamic patterns like the ones in this collection also do a tremendous job of disguising seams and making them less noticeable.

Why do you feel this partnership is a good fit for your personal aesthetic or design philosophy?
I've installed every type of wallpaper imaginable, on every surface imaginable: standard 20.5" and 27" wallpapers, grasscloths, silks, wood veneers, cork, hand-painted gilded chinoiserie wallpapers – everything. I love all types of wallpaper, but when I see that I have an A-Street Prints installation – or any wallpaper produced by Brewster Home Fashions – I know it will be a good day. The wallpapers are priced well, install like butter, wipe beautifully, and are virtually seamless.

A-Street's fun and colourful designs instantly catch the eye. Beyond its quality, I've appreciated that A-Street's style naturally compliments the timeless, fun and slightly edgy style I love.

What's the most exciting aspect of this collection for you?
There is an accelerating trend toward large scale, camera ready wallcoverings and I feel that this collection will meet this demand and bring murals center stage.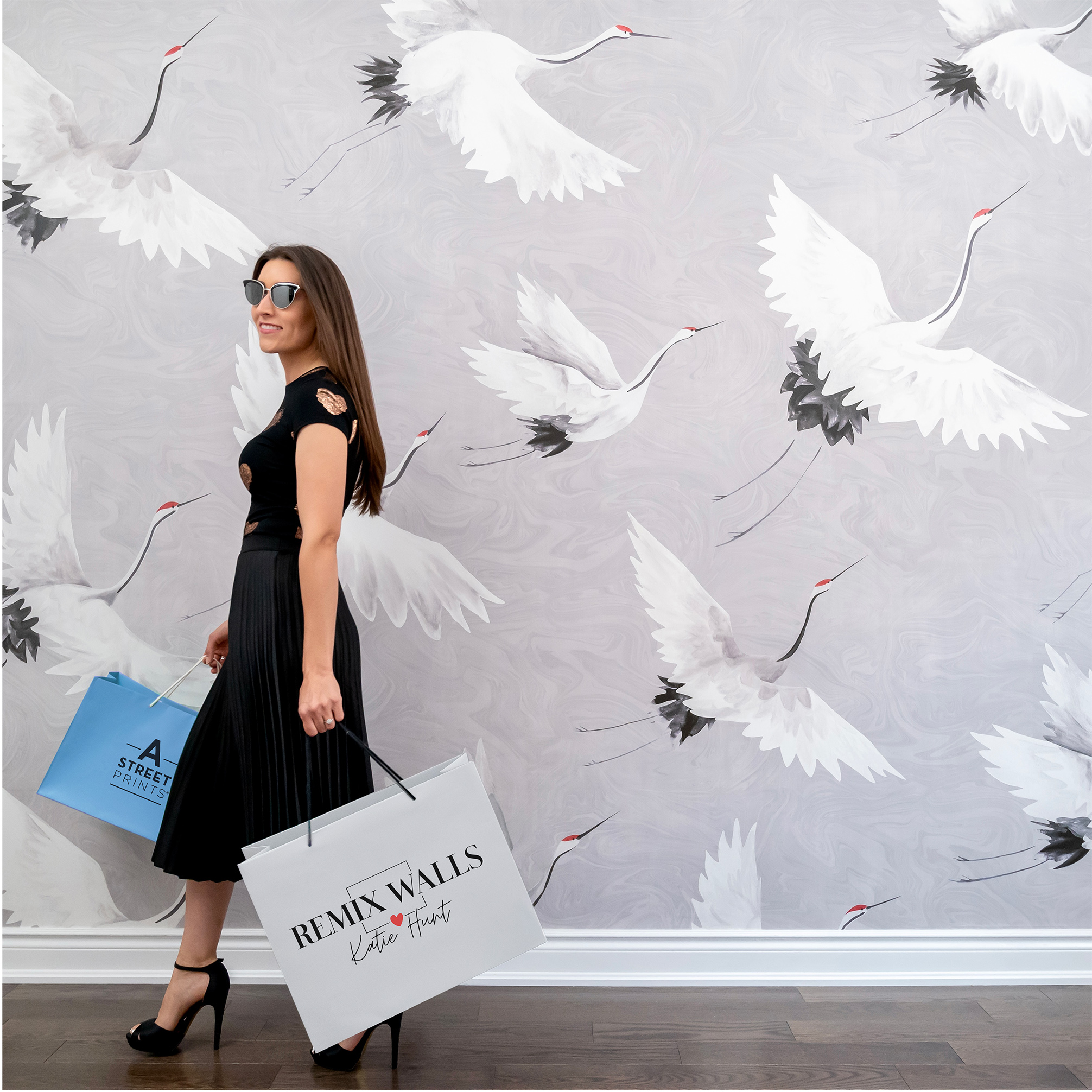 Photography Courtesy of Katie Hunt