In a time when social distancing and stay-at-home orders are keeping us homebound, an emerging aesthetic is reimagining our isolation into one of dreamy, natural, homespun comfort. Welcome to cottagecore: a style that embraces the simple pleasures of life in a woodland cabin or prairie homestead.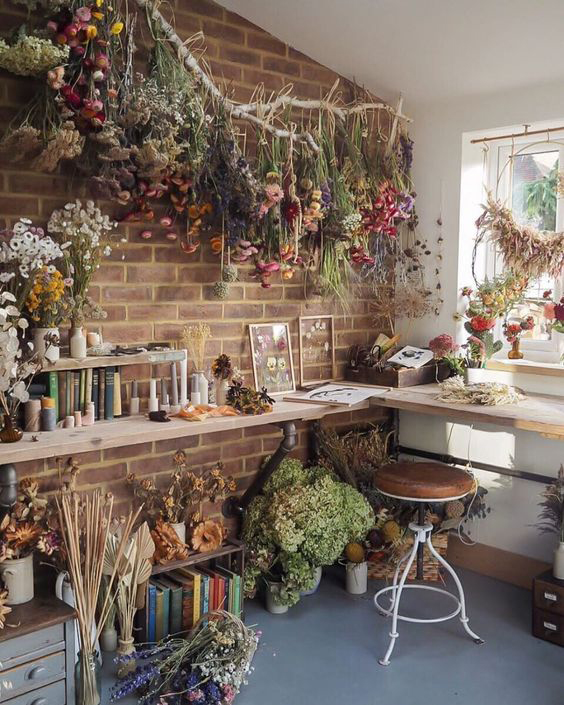 Photo Credit: Bex Partridge of @botanical_tales
While idyllic imagery of a slower-paced, rustic lifestyle has circulated across social media for several years, interest in cottagecore started to rise at the beginning of 2020 and skyrocketed once COVID hit. Its emphasis on what's whimsical and charming offers a much-need respite from the harsh realities of the present. Plus, with our homes becoming one of the few places we can be, cottagecore's ability to transform our spaces into places we want to be is quickly becoming invaluable.
The pandemic may have accelerated interest in cottagecore, but its foundations in interior design have been brewing for years. Similar to maximalist grandmillennial style that became popular beginning late 2019, cottagecore is a reaction to and rebuttal against minimalism: the sleek and arguably impersonal style that's dominated interiors since the early 1990s. And while cottagecore shares a penchant for vintage finds, chintz florals and feminine fabrics with grandmillennial style, it is distinguished by simple adornments and an emphasis on nature.
Think of cottagecore as creating your very own fairytale cabin, hidden away in some peaceful spot in the wilderness. The bridge between outside and in is blurred, and your home is filled with nothing but rustic touches and nostalgic comforts.
Cottagecore's eclectic natures makes it easy to integrate the look into your current décor. Look for vintage accents and hand-hewn goods that add charm to your space. Plants are a must, and you can never have too many. However, for those lacking a green thumb – or simply running out space for new greenery – considering adding in botanical illustrations and other nature-themed décor. A charming, large-scale floral wallpaper or botanical print can also do the trick.
Your soft surfaces are also prime real estate for building in cottagecore comforts. A rise in businesses specializing in custom furniture makes it easy to upholster staple and accent pieces with nature motifs or simple, elegant patterns. For more swappable style options, consider adding in some sheer lacy curtains, embroidered throw pillows and quilted, floral bedspreads.
For the latest developments and interior design inspiration, be sure to follow A-Street Prints on Instagram and Pinterest!
Featured Partner: The Inside
Founded in 2018, The Inside is a home funishings brand that believes in the joy of decorating. Creating the home of your dreams should be an accessible experience for everyone, and The Inside champions making the design process fun and affordable across every style and budget.